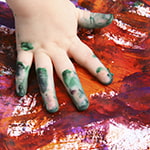 Course Description
This course applies to infants, toddlers, and preschoolers.
Created for all childcare facilities and homes, this course presents a wealth of exciting ideas and techniques for providing terrific learning environments. From cooking projects to music, art, and literacy activities to block play, pretend play, and gardening, you will find enticing ideas for both indoor and outdoor excitement. This course discusses how children learn and the caregiver's role in children's learning process as well as ways to use projects to create fun learning experiences.
See learning outcomes and topics below for more information on what is covered in this course.
Course formats
This course is offered in both our coursebook (with required online component/testing) and our fully online format. Click here to learn more about Care Courses' training formats.
Acceptance information
This course is accepted for child care professional development training requirements in most states and for the CDA credential and for CDA renewal training requirements.
Learning outcomes
After completing Making Learning Fun you will be able to explain the importance of play in young children's learning; discuss your role in making learning fun for children; identify the benefits of a developmentally appropriate approach to early childhood curriculum, and much more! Click here to read all of this course's learning outcomes.
Topics covered
The value of multi-sensory experiences
Play as the developmentally appropriate way to learn
Types of play
Your role in children's learning
Appropriate challenges
Functional learning centers
Inclusion of all children
Emergent curriculum
The project approach
Learning through creative art activities
Setting up an art center
Fun and learning with playdough
Play, learning, and emerging literacy activities
Learning through music
Block play and development
Setting up a block center
Pretend play and development
Setting up a pretend play center
Fun with woodworking
The benefits of outdoor play
Outdoor learning centers
Fun and learning with gardening
Learning with sand and water play
Prerequisites
Must be able to fluently read and write English.
Instructional methodology
Read written material, view videos, listen to audio segments.
Assessment methods
Multiple choice quizzes and written assignments.
What our students say about Making Learning Fun
"I received my course just a day or so after ordering it, thank you for getting it out to me so quickly. I have finished the first lesson and enjoy the freedom of studying when I can fit it into my already busy day. I am looking forward to implementing the ideas from the course into my classroom, to ensure my children are having fun while learning." - Finksburg, Maryland
"I have appreciated Care Courses for years as resources for CEUs and CDA requirements. The courses are informative, easy to understand and I like being able to work at my own pace. And keeping coursebooks that I have successfully completed are a great resource to review from time to time. Thank you." - St. Paul, Minnesota
"Thanks for the care during the course!! I am well on my way to a renewal CDA. Thanks to the staff for the wonderful courses. I really enjoyed the books and the reading. Thanks again." - Albuquerque, New Mexico
"Everything is going wonderful so far! The coursework was very insightful, fun to learn, and an easy read! There were so many issues touched on that increased my knowledge of certain childcare issues even further, overall very good quality work you provide!" - Woodville, Texas
"First, I want to thank you all for coming out with these wonderful courses. After working 10 or 11 hours a day, I find myself so tired that the last thing I want to do is attend evening courses. These courses have allowed me to get the hours that I need. In the past, I have enjoyed many of your courses and none have been so interesting as this one. I have to say that this course was a real challenge for me. It must be my age, ha, ha, I will be 68 years old and near my retirement. However, it has been 25 years of pure enjoyment. I think the kids have kept me alive. For our project that we did hands on, we planted beans -- one day we were having bean tacos and the children wanted to know where beans come from and I decided that this would be a good idea for our project since it would be easy but a little messy and fun for the little ones to do. We spread out newspapers and sat on the floor. Each one had their own paper cup and a little dirt and a few beans. I did the first one and they followed. In about a week they could see their plant growing and were very happy. Thank You." - Irving, Texas
"The first course I am working on, "Making Learning Fun," is incredible. I am impressed with the material; it is new information, interesting, and is info I'll share with my co-workers at our preschool. The idea of projects in the classroom sounds wonderful!" - Pflugerville, Texas
Completion deadline
This training expires 12 months from the date of purchase. Courses must be successfully completed by their expiration date in order for the student to receive a certificate.
Care Courses information
Care Courses has free unlimited assistance! Call us: 1-800-685-7610, Monday through Friday, 9-5 ET for help with your training or for billing and technical support questions. Or email us days, evenings and weekends: info@CareCourses.com, billing@CareCourses.com, or techsupport@CareCourses.com. Our friendly support team is here to help!
Care Courses currently offers over 30 professional development courses and one non-credit training tutorial on the CDA process. All courses offer clock hours and an official online certificate of completion. The free CDA tutorial does not offer clock hours or a certificate.
Care Courses' course tuition entitles one person to receive the clock hours granted by a course upon successful completion. Bundle pricing covers tuition for all the courses included in a bundle.
To receive the CEUs and Clock Hours for a course, you must adhere to and sign our honor code, follow directions on written assignments and show comprehension of the course content. You must make 70% or better on all course quizzes. Less than 70% will result in trainer review and evaluation. If review indicates the need for discussion, you will be informed that you must speak with a trainer. You will be given a second chance to make 70% or better. Should you fail to do so, you will receive a letter indicating that you did not pass the course and may not retake the course for 12 months.
Clock hours and CEUs are documented on official Care Courses certificates of completion which are accessed in the My Courses area of your account.
More information on how Care Courses works can be found on our training process page. For a video tutorial of our online course portal, please visit our course navigation video.
Click to view our minimum system requirements. (Click to view our Return and Refund Policies, Privacy and Security Policies and our Honor Code & Policy).