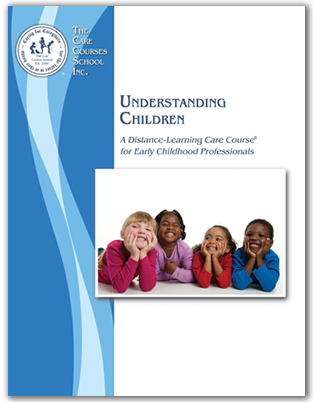 Understanding Children Course Description:
This course applies to infants, toddlers and preschoolers.
An excellent overview child development course, if you have not taken a distance-learning course before, this would be an excellent choice. This course includes sections devoted to the developmental states of infants, toddlers, and preschoolers, and a separate section specifically on children in child care. Learn what children need to be happy and secure; ways to create appropriate learning environments and meet the needs of infants, toddlers and preschoolers; and fun activities for each age group such as nature experiences, learning science attitudes, outdoor play and an in-depth section on dramatic play. Includes a section on toilet learning. See the course topics listed below for more information on what is covered.


Learning Outcomes: After completing Understanding Children you will be able to explain the importance of your attitude toward the children in your care; describe what qualities make a healthy, happy person; list strategies to help children build a positive self-image; list strategies to help children develop cooperation and learn new skills; describe the importance of providing positive guidance; and identify policies to help new children get off to a good start at your early childhood facility. Read more.