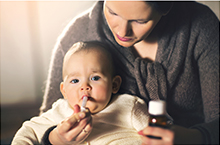 Course Description:
This course applies to children of all ages.
Written for all early childhood facilities and homes, this course describes the importance of organized and specific procedures for administration of medication, documentation of procedures, communication between parents, caregivers, and health care professionals, appropriate responses to medical emergencies, and strategies for supporting children with specific health care needs.
Learning Outcomes:
After completing Medication Procedures in Child Care you will be able to describe requirements for administering and documenting medication; explain how to receive and administer medication; explain how to avoid medication errors and identify and respond to side effects and adverse and allergic reactions; and explain how to handle specific situations requiring medication, including seizures, diabetes, and asthma.
Attention Maryland Students: Maryland accepts this course for elective training hours, but not to meet the "Medication Administration" training requirement.
Attention Idaho Students: Idaho accepts this course for annual training hours, but not for "Medication Administration and Poison Prevention" requirement.
Attention: This course is not accepted for medication administration training requirements in all states. Please check our state training pages to learn how this course may be used in your state. Questions? Email us at info@carecourses.com.
Topics Covered in Medication Procedures in Child Care :
Why caregivers are asked to administer medication to children in their care
The importance of communication and the Relationship Triangle
The different classifications and forms of medication and best practices for preparing, administering, and storing them
How to properly administer medication
How to recognize and respond to adverse and allergic reactions to medication
Steps to prevent and document medication error
The importance of documenting every facet of administering medication
The necessity for a comprehensive policy in your program that governs medication administration in compliance with your state licensing agency
Prerequisites: Must be able to fluently read and write English.
Instructional methodology: Read written material, view videos, listen to audio segments.
Assessment methods: Multiple choice quiz and written assignments.