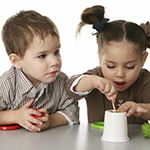 Course Description
This course applies to toddlers and preschoolers.
Learn about children's many intelligences and learning styles: verbal-linguistic, logical-mathematical, visual-spatial, musical, bodily-kinesthetic, naturalist, intrapersonal, and interpersonal.
This course includes strategies and activities addressing different learning styles that you can use to help children strengthen their skills in all of the intelligences.
See the learning outcomes and topics below for more information on what is covered in this course.
Course formats
This course is offered in both our coursebook (with online component) and our fully online format. Click here to learn more about Care Courses' training formats.
Acceptance information
This course is accepted for child care professional development training requirements in most states and for the CDA credential and for CDA renewal training requirements.
Information on specific states:
Learning outcomes
After completing Many Ways to Learn for Toddlers and Preschoolers you will be able to explain the eight intelligences and their corresponding learning styles, and discuss ways to adapt behavior guidance to children's different learning styles. Click to read all of the learning outcomes for this course.
Topics covered
Identification and description of the eight intelligences
Learning styles that correspond to the eight intelligences
Skills and behaviors that indicate strength in each intelligence
Techniques to facilitate children's development of competence in each of the intelligences
Ways to help young children develop various skills and abilities using a variety of learning styles
Prerequisites
Must be able to fluently read and write English.
Instructional methodology
Read written material, view videos, listen to audio segments.
Assessment methods
Multiple choice quizzes and written assignments.
What our students say about Many Ways to Learn for Toddlers and Preschoolers
"I just completed the course on the eight intelligences, "Many Ways to Learn," and even though I had received teaching on this before, I still found your course to be informative and I learned new information. I love the convenience of being able to complete my required hours of training hours by taking Care Courses and fitting them into my schedule. Thanks!" - McGaheysville, Virginia
"I am very happy with my Care Courses experience! The course was very well organized and easy to follow. I appreciated the refresher course on multiple intelligences and tailoring learning experiences to different learning types. Thank you!" - DeWitt, Iowa
"Perfect as usual. The course books arrived right on time, the reading is very catching and the ideas and examples are very clear and precise. I can't wait to have all my children back and teach using all the strategies. Thanks for making this available and affordable." - Silver Spring, Maryland
"I'm doing my class now. Thank you so much for your help. I do enjoy your classes. I always find something I can add to what I'm doing. Thank you." - Millsboro, Delaware
"About a year ago I thought I had already taken my training, but found out during an inspection they were the wrong ones. I had 30 days to complete the training and while it was offered through the State, it were not available during the time period allotted. I was told about Care Courses by my licenser and within two weeks I had completed what I needed with time to spare. I called many times with questions and everyone was so helpful. I will certainly use Care Courses again and will recommend you to everyone. I thank you so much." - Salt Lake City, Utah
Completion deadline
This training expires 12 months from the date of purchase. Courses must be successfully completed by their expiration date in order for the student to receive a certificate.
Care Courses information
Care Courses has free unlimited assistance! Call us: 1-800-685-7610, Monday through Friday, 9-5 ET for help with your training or for billing and technical support questions. Or email us days, evenings and weekends: info@CareCourses.com, billing@CareCourses.com, or techsupport@CareCourses.com. Our friendly support team is here to help!
Care Courses currently offers over 30 professional development courses and one non-credit training tutorial on the CDA process. All courses offer clock hours and an official online certificate of completion. The free CDA tutorial does not offer clock hours or a certificate.
Care Courses' course tuition entitles one person to receive the clock hours granted by a course upon successful completion. Bundle pricing covers tuition for all the courses included in a bundle.
To receive the CEUs and Clock Hours for a course, you must adhere to and sign our honor code, follow directions on written assignments and show comprehension of the course content. You must make 70% or better on all course quizzes. Less than 70% will result in trainer review and evaluation. If review indicates the need for discussion, you will be informed that you must speak with a trainer. You will be given a second chance to make 70% or better. Should you fail to do so, you will receive a letter indicating that you did not pass the course and may not retake the course for 12 months.
Clock hours and CEUs are documented on official Care Courses certificates of completion which are accessed in the My Courses area of your account.
More information on how Care Courses works can be found on our training process page. For a video tutorial of our online course portal, please visit our course navigation video.
Click to view our minimum system requirements. (Click to view our Return and Refund Policies, Privacy and Security Policies and our Honor Code & Policy).