Care Courses® are distance-learning courses for early childhood professionals. We are an early childhood training organization offering excellent and convenient distance-learning courses in a wide variety of interesting and helpful topics.
Complete your courses wherever and whenever you wish. We have helped thousands of early childhood professionals meet their state training and director credential requirements, get and renew their CDA credential and renew their NAC credential for over 30 years! Click to access our entire course listing and click here to learn about our CDA training program
Create an online Care Courses account to order courses, access your order/course history, take courses and access your certificates. Email or phone our offices for friendly, live assistance.
We offer unlimited free support, free grading and free certificates.
Course formats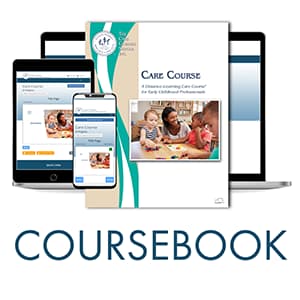 CourseBooks
CourseBooks are delivered via the US mail and other carriers, can be carried with you wherever you go, and offer the ultimate in convenience. CourseBooks have required online components and testing that can be completed on your smartphone, tablet or computer.
Highlight and bookmark your work, circle answers, underline passages, and when you're finished, retain the books in your reference library.
---
"Everything went very smoothly. In fact the books arrived much sooner than expected. I didn't believe I was going to actually 'learn' anything, but I am pleased to report that there was a lot of valuable information contained in the coursebook. I found myself highlighting, writing notes and adding pages to my files for further review. Thank you for a well written and interesting course." - Hanover, Maryland
---
Log into your personal Care Courses account on a computer, tablet or smartphone to access the course videos, self-checks, documents, and other online components. Complete your course quizzes online easily whenever you wish. Your order history, course history, and certificates are easily accessed within your account. Click to learn how you can access your online certificate.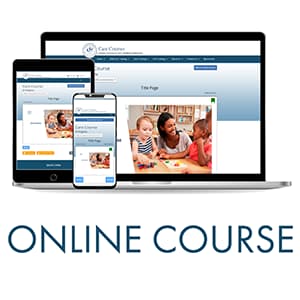 Online Courses
Online courses are accessed within the My Courses section of your personal online account, are immediately available upon purchase and are completed directly on your computer, tablet, or smartphone. Online courses can be activated at any time, and accessed/saved as many times as needed until you are ready to submit for grading.
---
"I was extremely impressed with the online course! I will definitely be using your online courses in the future! Useful information available to me when it works with my schedule. Thank you!" - Walworth, New York
---
Online courses also include a printable file (PDF) copy of the course content so that you may print some or all of the course for reading away from your device. Several courses include audio narration of most course sections. These courses include:
Please check our audio course listing for more titles as we add audio to more courses.
Hear this page read aloud the way the course sections are:
Quizzes are taken online and your order history, course history, and certificates are easily accessed within your account. Click to view a navigation video tutorial of our online course portal.
Frequently asked questions about course formats
Is the tuition the same for coursebooks and online courses? Yes! Course learning content and tuition are the same for both formats. Choose the format that best meets your lifestyle and learning style.
What courses do you offer? Over 40 terrific, interesting and informative courses that cover the real-life experiences and needs of child care providers.
How much does student support cost? Support is free! Convenient email and phone support from our staff on all courses and for your CDA.
May I study with a friend Yes! You can study alone or in groups. Just make sure that your answers are your own.
How do I study for a Care Course? Click to view an informational video on how to get the most out of our courses.
Submitting courses for grading
Read the course material, do Self Check exercises, agree to our Honor Code (included in each course), and then complete and submit quizzes and other assessments.
Please note: All course and certificate dates and times are on eastern (U.S.) time.
You must make a passing score of at least 70% on each lesson (chapter) to receive the clock hours. We cannot issue partial clock hours for a course. We issue an online certificate documenting the hours you have earned. (You may redo the quizzes one time if you score lower than 70%. Failure to receive a passing score on all lessons the second submission will result in no certificate, and you will be unable to take the course again for 12 months.)
A link to your official certificate will be located to the right of successfully passed courses in the My Courses area of your online Care Courses account. Select the "View Certificate" link next to a successfully completed course to download, view, email and/or print your certificate.
Email us at info@CareCourses.com with questions. We are here to help!