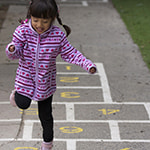 Course Description
This course applies to infants, toddlers, and preschoolers.
This course covers children's physical movement and nutritional needs and exciting ways to meet these needs. You will learn about factors that contribute to childhood obesity and the long-term effects it can have on children, as well as ways to help children avoid or reverse obesity.
See the learning outcomes and topics below for more information on what is covered in this course.
Course formats
This course is offered in both our coursebook (with required online component/testing) and our fully online format. Click here to learn more about Care Courses' training formats.
Acceptance information
This course is accepted for annual state training requirements in most states, and for the CDA and for CDA renewal training requirements.
In Nevada this course fulfills the annual 2 clock hour obesity/wellness/nutrition/physical activity training requirement.
Learning outcomes
After completing Fun and Fitness: Addressing Childhood Obesity you will be able to explain the early childhood professionals' role in promoting children's health and fitness; describe young children's need for physical movement; and describe nutritional recommendations for children's healthy development.
Topics covered
Immediate and long-term health effects of childhood obesity
Benefits of physical activities for children
Planning physical activities for children
Physical activity guidelines and activities for infants, toddlers, and preschoolers
Physical activity guidelines for children with diverse abilities and needs
Healthy food selection and eating practices
Parents' role in maintaining children's health
Prerequisites
Must be able to fluently read and write English.
Instructional methodology
Read written material, view videos, listen to audio segments.
Assessment methods
Multiple choice quiz and written assignments.
What our students say about Fun and Fitness: Addressing Childhood Obesity:
"I simply love Care Courses [Creating Schedules and Routines and Fun and Fitness: Addressing Childhood Obesity]. I have a large family including three very young children. Care Courses provides me a way to continue my education in my own time, at my own pace. I find that I am able to absorb the information available much better and can apply it to my daily life. I find each course that I have taken extremely informative and very simple to follow along. I have applied many things that I have learned in my classroom and passed them on to other educators like myself. I rave about Care Courses and will continue to do so. Thank you for a wonderful service, it is much appreciated." - Las Vegas, Nevada
"Everything was great! The courses were informative and helped me acquire the hours I needed for my state's continued education training. The really great thing was that I received the results and certificates very, very quickly. I was pleasantly surprised that the results/hours were sent to my state's program within a couple of days. I 100% will be participating in training programs through Care Courses in the future. Thanks!" - Tulsa,Oklahoma
Completion deadline
This training expires 12 months from the date of purchase. Courses must be successfully completed by their expiration date in order for the student to receive a certificate.
Care Courses information
Care Courses has free unlimited assistance! Call us: 1-800-685-7610, Monday through Friday, 9-5 ET for help with your training or for billing and technical support questions. Or email us days, evenings and weekends: info@CareCourses.com, billing@CareCourses.com, or techsupport@CareCourses.com. Our friendly support team is here to help!
Care Courses currently offers over 30 professional development courses and one non-credit training tutorial on the CDA process. All courses offer clock hours and an official online certificate of completion. The free CDA tutorial does not offer clock hours or a certificate.
Care Courses' course tuition entitles one person to receive the clock hours granted by a course upon successful completion. Bundle pricing covers tuition for all the courses included in a bundle.
To receive the CEUs and Clock Hours for a course, you must adhere to and sign our honor code, follow directions on written assignments and show comprehension of the course content. You must make 70% or better on all course quizzes. Less than 70% will result in trainer review and evaluation. If review indicates the need for discussion, you will be informed that you must speak with a trainer. You will be given a second chance to make 70% or better. Should you fail to do so, you will receive a letter indicating that you did not pass the course and may not retake the course for 12 months.
Clock hours and CEUs are documented on official Care Courses certificates of completion which are accessed in the My Courses area of your account.
More information on how Care Courses works can be found on our training process page. For a video tutorial of our online course portal, please visit our course navigation video.
Click to view our minimum system requirements. (Click to view our Return and Refund Policies, Privacy and Security Policies and our Honor Code & Policy).