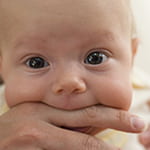 Course Description
This course applies to infants and toddlers.
In this popular course you will learn reasons why infants and toddlers bite, strategies to prevent biting, appropriate ways to intervene in biting incidents, and how to talk to children's families about biting.
See the learning outcomes and topics below for more information on what is covered in this course.
Course formats
This course is offered in both our coursebook (with required online component/testing) and our fully online format. Click here to learn more about Care Courses' training formats.
Acceptance information
This course is accepted for child care professional development training requirements in most states and for the CDA credential and for CDA renewal training requirements.
Nevada: This course can be used toward the 3-hour child development/guidance and discipline training requirement. Click for more courses that fulfill Nevada's requirement.
Learning outcomes
After completing Biting Hurts! you will be able to list reasons why infants and toddlers bite; explain strategies for preventing and responding to biting incidents; and describe techniques for effectively communicating with children's families about biting.
Topics covered
Reasons why infants and toddlers bite
Strategies for preventing biting
Appropriate responses to biting
What to tell children's families about biting
Want to learn more about handling biting in a child care setting? Read our blog: 10 Ways to Deal with Biting in Child Care.
Prerequisites
Must be able to fluently read and write English.
Instructional methodology
Read written material, view videos, listen to audio segments.
Assessment methods
Multiple choice quiz and written assignments.
What our students say about Biting Hurts!
"By far this is the best online school that I had tried [Biting Hurts!]. It's easy to manage, easy to understand. And easy to get to." - Edgewood, Maryland
"I have finished the course [Biting Hurts!] and it wasexcellent. I refreshed ideas to keep doing great things with my little ones. I love what I do!!" - Plymouth, Massachusetts
"The service I receive from you guys is always nothing short of outstanding. It truly is, and very appreciated!!!!" - Great Mills, Maryland
"I love taking the Care Courses [Social-Emotional Development in Young Children and Biting Hurts!]. They are educational, interesting and very user friendly. I look forward to taking more of them!" - Las Vegas, Nevada
"Yes, I have received my courses and finished Biting Hurts! and will be submitting the quiz this week. I really like the Care Courses, they allow me to fit them into my busy schedule without having to run to class or worry about being late and missing the class altogether. Thanks, Care Courses!" - Upper Marlboro, Maryland
"I couldn't have had a better experience with Care Courses [Biting Hurts!],Social-Emotional Development in Young Children, and Toilet Learning]. I had a problem initially getting into my account to do my classes and a wonderful lady helped me RIGHT AWAY, I couldn't believe it. I was off work after having surgery and in bed recuperating and really thought it would be days until I heard back….THANK YOU for that. I received my certificates very fast you guys are "Johnny on the spot." I have given your information to many other childcare providers in order for them to get their hours to continue with their license, and I will continue to do so. Thank you for all that you offer and the wonderful staff you have working for you." - Highlands Ranch, Colorado
"I have really enjoy taking the courses [Biting Hurts!, Toilet Learning] so far!! I am currently renewing my license after a long leave from ECE. I wish I had this years ago!!! I love the information and it has proven to be so helpful to me and the other staff!!! I feel like I want to take each one as they all apply to everyday life in our daycare day. Thank you !!!" - Fernie, British Columbia
Completion deadline
This training expires 12 months from the date of purchase. Courses must be successfully completed by their expiration date in order for the student to receive a certificate.
Care Courses information
Care Courses has free unlimited assistance! Call us: 1-800-685-7610, Monday through Friday, 9-5 ET for help with your training or for billing and technical support questions. Or email us days, evenings and weekends: info@CareCourses.com, billing@CareCourses.com, or techsupport@CareCourses.com. Our friendly support team is here to help!
Care Courses currently offers over 30 professional development courses and one non-credit training tutorial on the CDA process. All courses offer clock hours and an official online certificate of completion. The free CDA tutorial does not offer clock hours or a certificate.
Care Courses' course tuition entitles one person to receive the clock hours granted by a course upon successful completion. Bundle pricing covers tuition for all the courses included in a bundle.
To receive the CEUs and Clock Hours for a course, you must adhere to and sign our honor code, follow directions on written assignments and show comprehension of the course content. You must make 70% or better on all course quizzes. Less than 70% will result in trainer review and evaluation. If review indicates the need for discussion, you will be informed that you must speak with a trainer. You will be given a second chance to make 70% or better. Should you fail to do so, you will receive a letter indicating that you did not pass the course and may not retake the course for 12 months.
Clock hours and CEUs are documented on official Care Courses certificates of completion which are accessed in the My Courses area of your account.
More information on how Care Courses works can be found on our training process page. For a video tutorial of our online course portal, please visit our course navigation video.
Click to view our minimum system requirements. (Click to view our Return and Refund Policies, Privacy and Security Policies and our Honor Code & Policy).