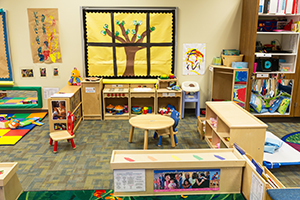 Course Description:
This course applies to toddlers and preschoolers.
Bound to get your creative energy flowing, this course will help you create an exciting child's world that will make a pleasant and productive atmosphere for both you and the children in your care. Course discusses children's characteristics; how children learn and develop, what children need to learn; how to create functional learning centers; and how to relate lesson plans to learning centers. Numerous suggestions for hands-on learning experiences included: play dough recipes, art centers, cooking centers, family centers, water play, and an in-depth section devoted to blocks. See the course topics listed below for more information on what is covered.
Learning Outcomes:
After completing The Early Childhood Environment: Learning Centers you will be able to discuss why functional learning centers are important in early childhood programs; identify strategies for setting up art, literacy, block play, and cooking learning centers and using them to engage children in activities that promote development and learning; and identify strategies for setting up pretend play, music, and outdoor play learning centers to engage children in activities that promote development and learning.  
Please Note: This course is still being submitted for approval toward childcare training requirements in Minnesota and North Carolina.
Topics Covered in The Early Childhood Environment: Learning Centers:
The conditions that must be present for learning to take place
The function and benefits of learning centers in early childhood facilities
What a functional learning center does
How to help children understand the use of learning centers
How to interpret a program built around learning centers to parents
Ways to match learning centers to young children's developmental needs
Ways to set up functional learning centers
How to create goal-directed lesson plans
Ways to develop lesson plans around themes
Ways to build lesson plans around books
What primary learning centers every early childhood facility should have
What primary learning centers should contain
How to include some secondary learning centers even in a small facility
How to manage the use of learning centers
The importance of hands-on learning for young children
Ways to use water play, science activities, unit blocks, and large blocks in early childhood facilities
Prerequisites: Must be able to fluently read and write English.
Instructional methodology: Read written material, view videos, and listen to audio segments.
Assessment methods: Multiple choice quizzes and written assignments.