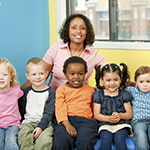 Course Description
This course is written for all early childhood professionals, working in homes or centers.
Become a more professional child care worker as you examine standards for high-quality child care and ways to show respect for diversity among children and families, develop congenial relationships with families and staff, and manage stress.
See the learning outcomes and topics below for more information on what is covered in this course.
Course formats
This course is offered in both our coursebook (with required online component/testing) and our fully online format. Click here to learn more about Care Courses' training formats.
Acceptance information
This course is accepted for child care professional development training requirements in most states and for the CDA credential and for CDA renewal training requirements.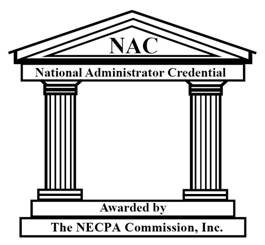 NAC training
The NECPA Commission, Inc. has approved this educational program as meeting the criteria for continuing education for the National Administrator Credential. Click here for more approved NAC training.
Learning outcomes
After completing The Early Childhood Professional you will be able to describe the purpose of child care and early education; recognize the characteristics of various types of child care; identify how to assess the quality of your early childhood program; identify developmentally appropriate practice in child care; and list various program requirements and rules to apply to your child care setting. Click here to read all of the learning outcomes for this course.
Topics covered
Standards for a high-quality child care environment
The purpose of child care and early childhood education
Characteristics of developmentally appropriate child care
The meaning of professionalism in child care
Characteristics necessary for child care providers
Duties and responsibilities of various jobs in the child care profession
Ethical standards for child care professionals
Respecting diversity among children and families
Ways to analyze classrooms for an anti-bias approach
Ways to show respect for family differences
Ways to ensure a congenial relationship with parents
How to plan and conduct parent conferences
Characteristics of successful communication with parents
Guidelines for harmonious staff relationships
Five-step problem-solving process
Stress management strategies
Sources, signs, and effects of stress
Ways to reduce stress in child care settings
Ways to improve your own stress management skills and help children develop their own coping skills
Prerequisites
Must be able to fluently read and write English.
Instructional methodology
Read written material, view videos, listen to audio segments.
Assessment methods
Multiple choice quizzes and written assignments.
What our students say about The Early Childhood Professional
"The material is very relevant and informative. It is also written in a way that is illuminating and not tedious. We chose a career that demands dedicated, loving individuals who understand the importance of building the ideal foundation which infants and young children need in order to grow up to become self assured, intelligent and well adjusted young people and adults on all levels." - Brecksville, Ohio
"Thank-You. Everything went very well ...smoothly and quickly. The Care Courses are the, 'only way to go.' After years of taking training hours the old fashion way... I'll never take training any other way. I hope you continue to add new courses." - Salem, Oregon
"Everything went really well in this course! This is my second care course, but my first online course. Instructions were very clear and navigating through the course was very easy! The content, assignments, testing were just difficult enough without being too easy or too difficult. I will continue to purchase courses from Care Courses in the future! - New Bedford, Massachusetts
"This is the third Care Course that I have ordered. They have all been great. I keep all the books and often refer to them. What a wonderful way to learn and earn hours." - Southaven, Mississippi
"I loved downloading the course as it gave me time to read in my spare time. I could pick a time when it was quiet, and I have the course on hand when I want to go back and reread it if I want. Thank you for offering these [The Early Childhood Professional, Preschoolers in Child Care] online." - Baxter Springs, Kansas
Completion deadline
This training expires 12 months from the date of purchase. Courses must be successfully completed by their expiration date in order for the student to receive a certificate.
Care Courses information
Care Courses has free unlimited assistance! Call us: 1-800-685-7610, Monday through Friday, 9-5 ET for help with your training or for billing and technical support questions. Or email us days, evenings and weekends: info@CareCourses.com, billing@CareCourses.com, or techsupport@CareCourses.com. Our friendly support team is here to help!
Care Courses currently offers over 30 professional development courses and one non-credit training tutorial on the CDA process. All courses offer clock hours and an official online certificate of completion. The free CDA tutorial does not offer clock hours or a certificate.
Care Courses' course tuition entitles one person to receive the clock hours granted by a course upon successful completion. Bundle pricing covers tuition for all the courses included in a bundle.
To receive the CEUs and Clock Hours for a course, you must adhere to and sign our honor code, follow directions on written assignments and show comprehension of the course content. You must make 70% or better on all course quizzes. Less than 70% will result in trainer review and evaluation. If review indicates the need for discussion, you will be informed that you must speak with a trainer. You will be given a second chance to make 70% or better. Should you fail to do so, you will receive a letter indicating that you did not pass the course and may not retake the course for 12 months.
Clock hours and CEUs are documented on official Care Courses certificates of completion which are accessed in the My Courses area of your account.
More information on how Care Courses works can be found on our training process page. For a video tutorial of our online course portal, please visit our course navigation video.
Click to view our minimum system requirements. (Click to view our Return and Refund Policies, Privacy and Security Policies and our Honor Code & Policy).