CDA Renewal Training: How do I renew my CDA?
---
Renewing Your CDA Certification with Care Courses
The CDA Credential renewal process has several steps. Care Courses can help.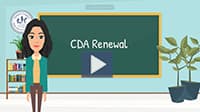 Complete your renewal training with Care Courses. Our specialists can answer any questions about the renewal steps and process. Confused? Contact us at 1-800-685-7610 or send an email to: cda@carecourses.com for help with your CDA and CDA decisions.
Click to watch our four-minute video explaining the CDA renewal steps.
CDA Renewal Training Sets
Use a course set below to renew your Family Child Care, Infant/Toddler Center-Based, Preschool Center-Based CDA, or Home Visitor CDA. Check the courses included to make sure you haven't taken them before! Click on the title to learn more about the set and to place an order.
---
A CDA Credential is valid for three years from the award date, and it must be renewed before it expires. A CDA Credential may only be renewed for the original setting, age-level endorsement, and specialization. Additional information, including the CDA Renewal Procedures Guides for each setting, can be found on the CDA Council's website by clicking here.
All CDA Renewal Candidates must meet the following requirements
Proof of current Red Cross or other nationally recognized agency First Aid and Infant/Child (Pediatric) CPR certificate.
Proof of 45 clock hours (4.5 CEUs) of training in early childhood education/child development that is related to your CDA setting. This training must be completed after your CDA credential's issue date. You may not re-take the same courses you completed when you applied for your original CDA credential or for previous CDA renewals.*
Verification of 80 hours of work experience with young children or families of young children within the past year
Recommendation from an Early Childhood Education Professional.
Proof of membership to a national or local early childhood professional organization.*
CDA Council Renewal fee: $150. Candidates who apply online using YourCouncil.com will receive a discount of $25 and will be charged a $125 renewal fee.
You may submit your Renewal Application no sooner than six months before your credential expiration date. Note: You must renew your credential before it expires. Your credential will expire 3 years from the date of award.
*Your training and membership documentation will be reviewed by a Verifier. Please refer to the Renewal Procedures Guide for more information.
Please call us for specific renewal instructions for a Home Visitor CDA. Our CDA renewal sets may be used for the 45 hours of training needed to renew your Home Visitor CDA.
---
Official Partner of the CDA Council and CDA Gold Standard Training Organization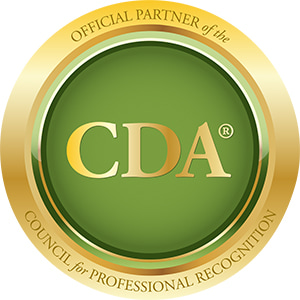 In July 2017, the CDA Council for Professional Recognition awarded Care Courses the new CDA Gold Standard certification in recognition of the quality of our courses, the unlimited, free support services we provide for our students, and our effective online and CourseBook training options. In 2022 we became an official partner of the Council. We are proud to work closely with the CDA Council to support early childhood professionals throughout the entire United States.
---
What our CDA students say

"I was very impressed by the wonderful customer service. Also, the two coursebooks I ordered and completed were interesting and very enjoyable! You made earning credits to renew my CDA a pleasure! I will recommend Care Courses to my colleagues and will be taking more classes in the future!"
– Bridgewater, New Jersey

"I love the care courses. I can work on my clock hours for my CDA at my own pace. They are extremely informative and up to date as it relates to early childhood."
– Oswego, Illinois

"Care Courses are going well. I'm so glad I remembered about Care Courses to renew my CDA!! I love being on my own schedule. The courses are so easy to navigate. The last course I completed was such a refresher for me I really enjoyed it. Thanks for checking in! I recently recommended Care Courses to a couple teacher friends!"
– Cheyenne, Wyoming

"I love to renew my CDA through Care Courses! It's easy to do and I can do it on my own time when it is convenient for me. The best part is that after almost 30 years of working with young children I still find the books informative!"
– Bloomington, Indiana