National Childcare Credentials in Wisconsin:
Use our courses toward a CDA as well as to renew your CDA, NAC or CCP.
Click for more information: National Child Care Credentials
Click to learn how the CDA can benefit you in Wisconsin.
Wisconsin Childcare Training Requirements
All Care Courses are accepted by the Wisconsin Department of Children and Families (DCF) toward the continuing education training requirements and in-service training requirements for those who work in group child care centers, family child care centers and day camps. This includes DCF training for administrators, center directors, child care teachers, employees, assistant child care teachers, providers, emergency back-up providers, counselors, volunteers, substitutes, and food service personnel. Care Courses are approved Tier Training through the Wisconsin Professional Development Approval System.
All Care Courses are approved by The Registry. For Tier Training credit, please add your Wisconsin Registry ID number to your Care Courses account. Thank you!
You may use Care Courses toward obtaining your CDA. A CDA allows you to obtain Level 6 on the Registry's Career Levels.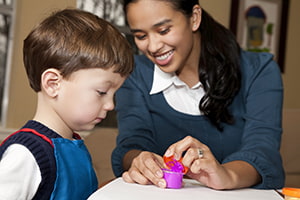 We also have courses that meet special Wisconsin Registry requirements (Child Abuse and Neglect: A Caregiver's Guide to Adverse Childhood Experiences)
Keeping Infants Safe fulfills the state requirement for SIDS risk reduction procedures, but it does not fulfill Wisconsin's requirement for Shaken Baby Syndrome.
Opening a child care facility in Wisconsin:
For those of you interested in starting a day care or home-based child care facility in Wisconsin, please contact your state licensing using the contact information below. The licensing agency can give you advice on the requirements, rules and regulations of your state.
Wisconsin Department of Children and Families
Phone: 608-422-7000