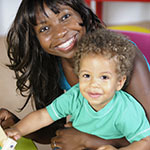 Course Description
This course applies to infants, toddlers and preschoolers.
In this popular and informative course, you will learn the typical developmental characteristics of children from birth to 6 years of age. This course covers positive guidance techniques, how to use daily routines and schedules to meet children's developmental needs, and ways to manage transitions with ease. Learn how to plan a developmentally appropriate curriculum and promote children's development through interesting activities.
See the learning outcomes and topics below for more information on what is covered in this course.
Course formats
This course is offered in both our coursebook (with required online component/testing) and our fully online format. Click here to learn more about our training formats.
Acceptance information
This course is accepted for the National CDA and for CDA renewal training requirements. It is also accepted for child care state training in most states.
This course fulfills the following particular requirements.
British Columbia: This course is accepted for British Columbia's 20-hour Responsible Adult Child Care Training Requirement, which requires 20 hours of training in child development, guidance, health and safety, or nutrition.
Massachusetts: This 20-hour (2.0 CEU) course is approved by Massachusetts EEC as a temporary waiver to meet the child growth and development requirement for hiring assistant teachers, teachers, and lead teachers. This course meets the requirements of Category of Study 1: Child Growth and Development, Birth through Eight Years. Completing this course, in addition to the required work experience, allows teachers to start work without completing 3 college credits in Category of Study 1. After completing this course, teachers must complete 3 college credits in Category of Study 1 within 6 months of their hire date.
Nevada: This course fulfills the Nevada child development/guidance and discipline training requirement.
Learning outcomes
After completing Child Development and Guidance you will be able to explain basic principles of children's development; describe the milestones that indicate different stages in each developmental domain; explain the importance of nutrition for children's development; explain the importance of opportunity for children's development and the lack of opportunity as a risk factor for developmental delays; and identify strategies for recognizing and reporting the characteristics associated with developmental delays and developmental disabilities. Click to read all of the learning outcomes for this course.
Topics covered
How children develop
Typical developmental characteristics (behaviors and skill development) and needs of infants (birth to 12 months), toddlers (1 year to 2½ years), preschoolers (2½ to 5), and school age (5 to 6 years)
Ways caregivers can meet the needs of infants and toddlers
Checklists for use in assessing the developmental progress of individual children
Positive guidance
Why children need guidance
The meaning of terms relating to guiding children's behavior
Techniques of positive guidance
Ways to help children develop a positive self-concept, and strategies for dealing with disruptive, non-compliant, and aggressive behaviors
Routines, schedules, and transitions between activities
Elements of a typical daily schedule for early childhood programs
Why routines are important for children's development
Typical routines for children's days at an early childhood program
Reasons why transitions are often troublesome
Ideas for ensuring pleasant transitions that contribute to children's development and learning
Ways to promote child development through activities
The meaning of developmentally appropriate curriculum
Guidelines for developmentally appropriate curriculum planning
Goals for young children's development
Strategies to promote child development
How to develop and use lesson plans
Ways to create developmentally appropriate learning environments
Suggestions for selecting toys and play equipment to meet children's needs
Prerequisites
Must be able to fluently read and write English.
Instructional methodology
Read written material, view videos, listen to audio segments.
Assessment methods
Multiple choice quizzes and written assignments.
What our students say about Child Development and Guidance
"Just want to let you know that Care Courses [Child Development and Guidance, Toddlers in Child Care, Principles of Child Development and Learning and Infants in Child Care] is great!!! I get my books mailed to me in a timely manner and the instructions are very thorough and easy to understand!! You guys are the best!" - Middlesex, New Jersey
"I absolutely love the fact that I'm able to study and complete things in my own time and work around my hectic work schedule. COVID-19 has been such a difficult time and after already spending so much money on trying to take online college classes this was such a relief to be able to pay for a course without feeling like I was selling my soul. I feel like I can actually be successful." - Lynn, Massachusetts
"Everything so far has been great with my online course order. I like the layout of the course, it is very easy to use." - British Columbia, Canada
"Everything went so smoothly with the download. I completed my work and mailed in the test yesterday. Love the amount of great information and the flexibility of working at home with my busy schedule. Thanks." - Dallas, Texas
"This course [Child Development and Guidance] was thorough and very helpful. The material was very well organized! I am eager to utilize the countless ideas I've learnt. I am excited to share this knowledge with future colleagues!" - Danvers, Massachusetts
"I was extremely impressed with the course Child Development and Guidance! I will definitely be using your online courses in the future! Useful information available to me when it works with my schedule. Thank you!" - Walworth, New York
"Hi and thank you for the follow up email regarding the Care Course I have begun. So far I have no questions, but want you to know that I am really enjoying the course on Child Development and Guidance. I am already looking forward to the next one that I will be taking. Thank you for setting up such a user friendly and informative system of continuing education. I really appreciate it!" - Damascus, Maryland
"Everything is going great. The training is very informative and I am learning a lot. Thank you so very much for this opportunity and for the availability of the training I am renewing my CDA so this has been crucial because I needed 23 hours of training. Thanks again." - Wilmington, Delaware
Completion deadline
This training expires 12 months from the date of purchase. Courses must be successfully completed by their expiration date in order for the student to receive a certificate.
Care Courses information
Care Courses has free unlimited assistance! Call us: 1-800-685-7610, Monday through Friday, nine to five Eastern Time for help with your training or for billing and technical support questions. Or email us days, evenings and weekends: info@CareCourses.com, billing@CareCourses.com, or techsupport@CareCourses.com. Our friendly support team is here to help!
Care Courses currently offers over 40 professional development courses and one non-credit training tutorial on the CDA process. All courses offer clock hours and an official online certificate of completion. The free CDA tutorial does not offer clock hours or a certificate.
Care Courses' course tuition entitles one person to receive the clock hours granted by a course upon successful completion. Bundle pricing covers tuition for all the courses included in a bundle.
To receive the CEUs and Clock Hours for a course, you must adhere to and sign our honor code, follow directions on written assignments and show comprehension of the course content. You must make 70% or better on all course quizzes. Less than 70% will result in trainer review and evaluation. If review indicates the need for discussion, you will be informed that you must speak with a trainer. You will be given a second chance to make 70% or better. Should you fail to do so, you will receive a letter indicating that you did not pass the course and may not retake the course for 12 months.
Clock hours and CEUs are documented on official Care Courses certificates of completion which are accessed in the My Courses area of your account.
Please note: All course and certificate dates and times are on Eastern Time.
More information on how Care Courses works can be found on our training process page. For a video tutorial of our online course portal, please visit our course navigation video.
Click to view our minimum system requirements. (Click to view our Return and Refund Policies, Privacy and Security Policies and our Honor Code & Policy).