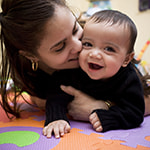 Course Description
This course applies to infants.
Create an environment that promotes infants' physical, language, cognitive, and social–emotional development. This informative and comprehensive course covers basic elements of infant care including feeding and diapering infants, understanding infants' various behavioral states, basic aspects of interacting with infants, the role of play in their development, and games and activities to create an appropriate learning environment.
See the learning outcomes and topics below to learn more about what is covered in this course.
Course formats
This course is offered in both our coursebook (with required online component/testing) and our fully online format. Click here to learn more about Care Courses' training formats.
Acceptance information
This course is accepted for child care professional development training requirements in most states and for the CDA credential and for CDA renewal training requirements.
Learning outcomes
After completing Infants in Child Care you will be able to describe the stages of infants' physical development, including motor skills, sight, hearing, taste, and smell; discuss infant feeding, including the importance of breastfeeding, introduction of solid foods, and food safety; and much more! Click here to view all of this course's learning outcomes.
Topics covered
Milestones of infants' physical development
How to support breastfeeding
How to handle breast milk and formula
Proper bottle-feeding procedures
Introduction of solid foods
Food safety and nutrition for infants
Milestones of infants' language development
How infants communicate
Introducing baby signs
Milestones of infants' cognitive development
Object permanence
Stages of play
Milestones of social-emotional development
Sense of self, self-image, self-esteem, and social interactions in infants
Infants' behavioral states and ways to comfort distressed infants
The importance of caregiver interactions with infants
Relationship with parents of infants
Separation anxiety
How to create a learning environment that supports infants' development
How to create a safe indoor and outdoor learning environment for infants, and be prepared for emergencies
Discussion of sudden infant death syndrome (SIDS), sudden unexpected infant death (SUID), abusive head trauma (AHT), and adverse childhood experiences (ACEs)
Prerequisites
Must be able to fluently read and write English.
Instructional methodology
Read written material, view videos, and listen to audio segments.
Assessment methods
Multiple choice quizzes and written assignments.
What our students say about Infants in Child Care
"I am loving the course so far! It is easy to navigate and follow, I am able to implement what I have learned in my current Infant Program. :-) Thank you!" - Steamboat Springs, Colorado
"I am very pleased to say my course arrived even within the week that I ordered it. And that was to Canada too!! Thanks so much. I will definitely be ordering more courses in the future." - Auburn, Ontario, Canada
"Just want to let you know that Care Courses [Child Development and Guidance, Toddlers in Child Care, Principles of Child Development and Learning and Infants in Child Care] is great!!! I get my books mailed to me in a timely manner and the instructions are very thorough and easy to understand!! You guys are the best!" - Middlesex, New Jersey
"I ordered the course Infants in Child Care. I was very happy with the course [Infants in Child Care]. I liked the fact that I was able to spend the weekend completing the course. I work 40 hours a week and take care of my grandchildren after work for about 2 hours. My time during the week is limited. I worked on the course over a 3 day weekend, completed it and mailed it in the next day. I am currently waiting for the results. Everything was very well organized and very well explained. The process was simple to follow and the classes were packed with information. I have recommended the course to my director. I hope my Director takes my advice and orders courses through Care Courses." - Muskego, Wisconsin
"This training has help me better understand how to care for an infant. I was already doing this in my facility, but this training enhances my services to infants." - Edmond, Oklahoma
"This course gave me wider 'eye' for safety and appropriate learning environment and what I should do as a caregiver." - Bayside, New York
Completion deadline
This training expires 12 months from the date of purchase. Courses must be successfully completed by their expiration date in order for the student to receive a certificate.
Care Courses information
Care Courses has free unlimited assistance! Call us: 1-800-685-7610, Monday through Friday, nine to five Eastern Time for help with your training or for billing and technical support questions. Or email us days, evenings and weekends: info@CareCourses.com, billing@CareCourses.com, or techsupport@CareCourses.com. Our friendly support team is here to help!
Care Courses currently offers over 40 professional development courses and one non-credit training tutorial on the CDA process. All courses offer clock hours and an official online certificate of completion. The free CDA tutorial does not offer clock hours or a certificate.
Care Courses' course tuition entitles one person to receive the clock hours granted by a course upon successful completion. Bundle pricing covers tuition for all the courses included in a bundle.
To receive the CEUs and Clock Hours for a course, you must adhere to and sign our honor code, follow directions on written assignments and show comprehension of the course content. You must make 70% or better on all course quizzes. Less than 70% will result in trainer review and evaluation. If review indicates the need for discussion, you will be informed that you must speak with a trainer. You will be given a second chance to make 70% or better. Should you fail to do so, you will receive a letter indicating that you did not pass the course and may not retake the course for 12 months.
Clock hours and CEUs are documented on official Care Courses certificates of completion which are accessed in the My Courses area of your account.
Please note: All course and certificate dates and times are on Eastern Time.
More information on how Care Courses works can be found on our training process page. For a video tutorial of our online course portal, please visit our course navigation video.
Click to view our minimum system requirements. (Click to view our Return and Refund Policies, Privacy and Security Policies and our Honor Code & Policy).