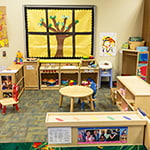 Course Description
This course applies to toddlers and preschoolers.
Bound to get your creative energy flowing, this course will help you create an exciting world for children that supports their development and learning. Learn how to design a pleasant and functional learning environment, explore the benefits of designated learning centers, how to work with the resources available to you, and specific benefits of different learning centers in relation to children's stages and domains of development. Learn how to incorporate hands-on learning experiences such as home-made play dough, art activities, cooking activities, and more!
See the learning outcomes and topics below for more information on what is covered in this course. Please note, much of the information in this course also appears in our course Making Learning Fun.
Course formats
This course is offered in both our coursebook (with required online component/testing) and our fully online format. Click here to learn more about our training formats.
Acceptance information
This course is accepted for child care professional development training requirements in most states and for the CDA credential and for CDA renewal training requirements.
Learning outcomes
After completing The Early Childhood Environment: Learning Centers you will be able to discuss why functional learning centers are important in early childhood programs; identify strategies for setting up art, literacy, block play, and cooking learning centers and using them to engage children in activities that promote development and learning; and identify strategies for setting up pretend play, music, and outdoor play learning centers to engage children in activities that promote development and learning.
Topics covered
The conditions that must be present for learning to take place
The function and benefits of learning centers in early childhood facilities
What a functional learning center does
How to help children understand the use of learning centers
How to interpret a program built around learning centers to parents
Ways to match learning centers to young children's developmental needs
Ways to set up functional learning centers
How to create goal-directed lesson plans
Ways to develop lesson plans around themes
Ways to build lesson plans around books
What primary learning centers every early childhood facility should have
What primary learning centers should contain
How to include some secondary learning centers even in a small facility
How to manage the use of learning centers
The importance of hands-on learning for young children
Ways to use water play, science activities, unit blocks, and large blocks in early childhood facilities
Prerequisites
Must be able to fluently read and write English.
Instructional methodology
Read written material, view videos, and listen to audio segments.
Assessment methods
Multiple choice quizzes and written assignments.
What our students say about The Early Childhood Environment: Learning Centers
"I've taken several courses through your website, and each one was both informative and well presented. Your tech support team was also very helpful when I needed their assistance. Thanks for this great resource!" - Brooklyn, New York
"I was able to complete my courses [Music and Movement and Early Childhood Environments: Learning Centers] and I did not have any issues. I liked the way the information was presented. I did take away some good ideas that I can implement in my classroom as well as some ideas I plan to present to my school director for future projects to enhance our playground. I was pleasantly surprised at the speed with which my course books arrived! Thank you for reaching out. Have a wonderful fall!" - St. Leonard, Maryland
"I just wanted to take a moment to tell you how wonderful your courses are and how much I enjoyed doing them. As a CDA candidate I am required to have 120 clock hours. For five hours of credit I had to take a day off of work, drive two hours there and two hours back. The last one I took my car broke down and was stuck two hours away for three days. I was so discouraged. The day after the car incident my boss handed me one of your brochures that had just come in the mail. What timing! At the rate I was going (with courses scheduled about once a month that I could attend) it would be at least another year before I could file for my CDA. This all happened the end of April. By doing your courses I can now file for my CDA in four weeks. (Unfortunately, your courses do not include multimedia First Aid that I am due to renew!) But not only did your coursework enable me to get my CDA much sooner - I thoroughly enjoyed doing it. They were interesting and taught me so m much more than I usually learn at classes. Plus, I have the workbooks to use for references. Thank you so much! - Barnegat, New Jersey
"This course was very interesting. I have learned a lot about the different centers. I will be adding more to my block center. My children really like to build with blocks, but I never knew it was such a important area. thanks for all the great ideas." - Glencoe, Minnesota
Completion deadline
This training expires 12 months from the date of purchase. Courses must be successfully completed by their expiration date in order for the student to receive a certificate.
Care Courses information
Care Courses has free unlimited assistance! Call us: 1-800-685-7610, Monday through Friday, nine to five Eastern Time for help with your training or for billing and technical support questions. Or email us days, evenings and weekends: info@CareCourses.com, billing@CareCourses.com, or techsupport@CareCourses.com. Our friendly support team is here to help!
Care Courses currently offers over 40 professional development courses and one non-credit training tutorial on the CDA process. All courses offer clock hours and an official online certificate of completion. The free CDA tutorial does not offer clock hours or a certificate.
Care Courses' course tuition entitles one person to receive the clock hours granted by a course upon successful completion. Bundle pricing covers tuition for all the courses included in a bundle.
To receive the CEUs and Clock Hours for a course, you must adhere to and sign our honor code, follow directions on written assignments and show comprehension of the course content. You must make 70% or better on all course quizzes. Less than 70% will result in trainer review and evaluation. If review indicates the need for discussion, you will be informed that you must speak with a trainer. You will be given a second chance to make 70% or better. Should you fail to do so, you will receive a letter indicating that you did not pass the course and may not retake the course for 12 months.
Clock hours and CEUs are documented on official Care Courses certificates of completion which are accessed in the My Courses area of your account.
Please note: All course and certificate dates and times are on Eastern Time.
More information on how Care Courses works can be found on our training process page. For a video tutorial of our online course portal, please visit our course navigation video.
Click to view our minimum system requirements. (Click to view our Return and Refund Policies, Privacy and Security Policies and our Honor Code & Policy).