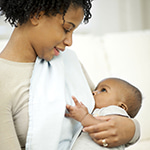 Course Description
Created for all child care providers who work with parents of infants, this course describes the importance of breastfeeding, ways to support breastfeeding mothers, and how to store and handle breast milk. Learn how to create a comfortable environment for breastfeeding mothers, share your support policy with families and staff, and understand laws regarding breastfeeding.
See the learning outcomes and topics below for more information on what is covered in this course.
Course formats
This course is offered in both our coursebook (with required online component/testing) and our fully online format. The online format of this course includes audio narration in most course sections. Click here to learn more about Care Courses' training formats.
Hear this page narrated the way the course sections are:
Acceptance information
This course is accepted for child care professional development training requirements in most states and for the CDA credential and for CDA renewal training requirements.
Maryland: This course is approved by the Maryland State Department of Education for the breastfeeding support requirement.
In Oklahoma: This course is approved for the Infant/Toddler Certificate of Achievement.
Learning outcomes
After completing Supporting Breastfeeding in Child Care, you will be able to list and explain the benefits of breastfeeding for both the child and the mother; explain ways to support the needs of breastfed infants and safe handling and storage procedures for breast milk; describe and apply the four goals that breastfeeding support policies should address to create a welcoming environment for breastfeeding families; and identify and summarize strategies that can be used to create and implement a breastfeeding-friendly program.
Topics covered
benefits of breastfeeding
advantages of human milk over other foods
benefits of breastfeeding for children with special needs
hints for bottle-feeding the breastfed baby
supporting families who are breastfeeding and families who are not breastfeeding
safe handling guidelines for breast milk
safe storage guidelines for breast milk
individualized plans for infants who are breastfeeding
components of a breastfeeding-friendly program
select state regulations regarding breastfeeding
includes self-appraisal questionnaire for evaluating your program's breastfeeding policies
Want to learn more about how to safely handle breast milk in a childcare facility? Read our blog How to Store and Handle Breast Milk
Prerequisites
Must be able to fluently read and write English.
Instructional methodology
Read written material, view videos, listen to audio segments.
Assessment methods
Multiple choice quiz and written assignments.
What our students are saying about Supporting Breastfeeding in Child Care
"I absolutely loved this Supporting Breastfeeding course! I enjoyed the videos and audio. It helped to reinforce important points that I'd read or was reading." - Gwynn Oak, Maryland
"Care Courses are forever my go-to courses to take for continuing education. I thoroughly enjoyed the format [Supporting Breastfeeding in Child Care and Early Childhood Stress], your customer support is magnificent, and it felt as though someone was within arms reach while taking the courses and tests. You have created a wonderful program! Thank you for being here for all of us!" - Ferndale, Washington
"Everything went great! I ordered a lot of your courses [Supporting Breastfeeding in Child Care, Toilet Learning, Block Play, Music and Movement, Understanding and Managing Allergies] for my childcare teachers and we all enjoyed the courses we took. I loved the new set up of the website, so much easier to navigate and the course content was very informative and helpful. We have been using your courses for many years and will continue to do so in the future. Keep adding new content!! Thank you again!." - Baltimore, Maryland
"I really enjoyed the course [Supporting Breastfeeding in Child Care] and the design as well with how you formatted the information. The course was very user friendly as far as navigation." - Baltimore, Maryland
"I was absolutely thrilled with the course [Supporting Breastfeeding in Child Care]! Thank you! Loved the outline of everything!" - Greensboro, Maryland
"Honestly, I thoroughly enjoyed and was impressed by this training [Supporting Breastfeeding in Child Care]. As a breastfeeding Mom there were even things in this course I wasn't aware of. - New Windsor, Maryland
"I loved the online parts [of Supporting Breastfeeding in Child Care] with the videos. They really helped solidify what I read in the text book. Also, having the "Notebook Assignment" was very cool. I loved how that really helped me think about how I was going to apply this new information. It helped me broaden my perspective so now, when I give tours, I am able to talk about these things more openly and understand how important it is to families." - Gwynn Oak, Maryland
Completion deadline
This training expires 12 months from the date of purchase. Courses must be successfully completed by their expiration date in order for the student to receive a certificate.
Care Courses information
Care Courses has free unlimited assistance! Call us: 1-800-685-7610, Monday through Friday, nine to five Eastern Time for help with your training or for billing and technical support questions. Or email us days, evenings and weekends: info@CareCourses.com, billing@CareCourses.com, or techsupport@CareCourses.com. Our friendly support team is here to help!
Care Courses currently offers over 40 professional development courses and one non-credit training tutorial on the CDA process. All courses offer clock hours and an official online certificate of completion. The free CDA tutorial does not offer clock hours or a certificate.
Care Courses' course tuition entitles one person to receive the clock hours granted by a course upon successful completion. Bundle pricing covers tuition for all the courses included in a bundle.
To receive the CEUs and Clock Hours for a course, you must adhere to and sign our honor code, follow directions on written assignments and show comprehension of the course content. You must make 70% or better on all course quizzes. Less than 70% will result in trainer review and evaluation. If review indicates the need for discussion, you will be informed that you must speak with a trainer. You will be given a second chance to make 70% or better. Should you fail to do so, you will receive a letter indicating that you did not pass the course and may not retake the course for 12 months.
Clock hours and CEUs are documented on official Care Courses certificates of completion which are accessed in the My Courses area of your account.
Please note: All course and certificate dates and times are on Eastern Time.
More information on how Care Courses works can be found on our training process page. For a video tutorial of our online course portal, please visit our course navigation video.
Click to view our minimum system requirements. (Click to view our Return and Refund Policies, Privacy and Security Policies and our Honor Code & Policy).